SONOMA COUNTY, (May 16, 2023) – Every harvest, Copain Winemaker Ryan Zepaltas ventures to research and develop wines utilizing new varietals on experimental and unique winemaking techniques. This year, we are excited to announce the launch of the new 2022 Sonoma County Daybreak White Blend and the return of the highly anticipated 2022 P2 Red Wine.
The 2022 Daybreak White Blend is a light, fresh, easy-drinking white wine where the art of the blend takes center stage. Composed of seven white varieties from four distinct Sonoma County sites, this wine celebrates the terroir-driven characters of its components: exotic aromatics from Viognier and Gewürztraminer, acidity and brightness from Sauvignon Blanc and Riesling, mid-palate intrigue from Pinot Grigio and Picpoul, and structure from Chenin Blanc. It's a perfect sunny day wine that will pair effortlessly with ceviche, creamy cheeses, chips and guacamole.
"For years, I've dreamed of making a white blend that is highly aromatic, flavorful, and exciting. A wine that builds upon different varieties from different origins to become everything a Copain Wine should be – nuanced, balanced, and, most of all, delicious. Welcome to the first vintage of Daybreak," said Ryan Zepaltas.
Releasing in June 2023, the P2 Red Wine is on Copain's "Secret Menu."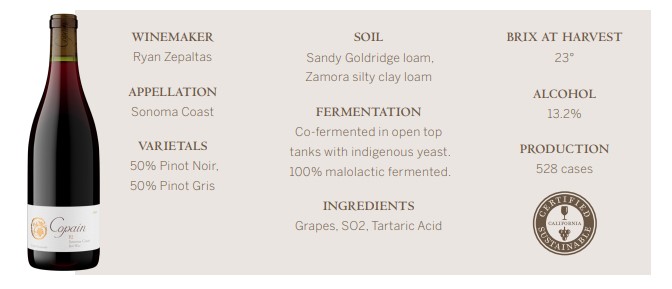 This wine was first made by accident in 2009 and has developed a cult following among the most fervent of Copain enthusiasts. Made up of 50% Pinot Noir and 50% Pinot Gris, Copain strategically selected two vineyards in the Sonoma Coast AVA to create this wine. This coastal region gives grapes with bright, energetic fruit characteristics and vibrant acidity, which in turn makes a fresh and existing wine. The Pinot Noir comes from a vineyard along the far reaches of the Sonoma Coast, contributing bright, tart Pinot Noir flavors. While the Pinot Gris hails from a grower on the outskirts of Santa Rosa.