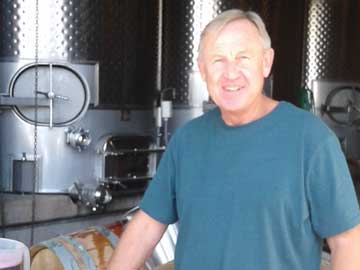 PASO ROBLES and NEWPORT BEACH, Calif. (November 14, 2016) – Envisioning a one-of-a-kind winery experience, Bianchi Winery and Tasting Room, a premier property on California's Central Coast, is excited to bring on veteran winemaker, J. Chris Stanton, to head up operations in Paso Robles.
With more than 20 years' experience in the industry, Stanton has a fruitful history of releasing highly rated and reviewed wines throughout the Central Valley and Coast. His eye for simplicity in his use of the land and the grapes pairs well with Bianchi's goal of creating timeless classics under its label, while continuing expansion into the super and ultra-premium markets. Adding to its already knowledgeable staff, Stanton will continue the Bianchi tradition of making excellent wines at the serene 40-acre estate in Paso Robles. Stanton steps in for Bianchi's longtime winemaker, Tom Lane, who retires this year.
"We're thrilled to bring Chris onboard and are confident that his simple, but thorough and passionate approach to winemaking will fit quite well at Bianchi," said proprietor, Beau Bianchi.
Previous to joining Bianchi Winery, Stanton teamed up with his brother to start Sobriquet Winery in Napa Valley, Calif. Together they crafted four Sobriquet wines – a Pinot Noir, Syrah, Grenache and Chardonnay, which consistently received 90+ ratings since its inception in 2008. The UC Davis graduate served also as the general manager at Blackjack Ranch Vineyards & Winery in Solvang, Calif., where he was responsible for making more than 20 unique wines. He oversaw wine operations at Koehler Vineyards & Winery in Los Olivos, Calif. and Mayo Family Winery in Glen Ellen, Calif. At these estates, Stanton was able to hone his craft, becoming known as one of the premier winemakers in California. He is a graduate of the University of California, Davis.
Stanton's passion for winemaking paired with his knowledge of the region, aligns with Bianchi Winery's mission to create wines as exquisite as the surreal scenery and rich history of Paso Robles.
ABOUT BIANCHI WINERY AND TASTING ROOM:
With more than four decades of winemaking history, Bianchi Winery and Tasting Room now continues the legacy of founder Glenn Bianchi and his father, Joseph, in Paso Robles with wines in the super and ultra-premium categories with estate-grown and handcrafted wines. Combining the most advanced farming and production technologies with the finest terroir of Paso Robles, Bianchi Winery and Tasting Room has grown to be an industry leader, producing award-winning wines. The winery and tasting room sits on 40 acres overlooking the undulating vineyards of the area, rising above a waterfall fed lake nestled in its estate vineyards. Its Heritage Collection is made with estate grapes include Cabernet Sauvignon, Zinfandel, Syrah and Merlot, which grow along the property's gently sloping vineyards. The Bianchi Signature Selection is made with grapes purchased from premium growers in and around Paso Robles, who Bianchi maintains close relationships with to ensure access to top-quality harvests. Bianchi Wine is available in restaurants and retail stores throughout the United States. For more information about Bianchi Winery and Tasting Room, visit www.bianchiwine.com.